How To Decorate Your Patio Area With A Rug
An outdoor rug can be the focal point of your patio set, the item that brings it all together. As such item, it takes a certain finesse and care to pick the right patio rug to go with your furniture. There are a few things to consider when choosing a patio rug: the material, the size, the shape and the pattern. Let's take a look at each of these…
The Materials
There are two kinds of materials you can choose from: natural and synthetic. Natural materials include fibers such as sisal, hemp, jute, and seagrass. These fibers are very strong, sound-absorbent, sustainable and add texture to your space. They can be long lasting, but they also tend to grow mildew and become destroyed under a lot of rain.
Among the synthetic materials the most popular is olefin (a polypropylene fiber) that can be easily hosed down and dries quickly. Additionally, it is light-weight so you can easily move them around and fade resistant. As compared to natural outdoor rugs, synthetic rugs are less expensive.
Another important aspect of the material is the gripping power. Gripping power is essential when it comes to keeping outdoor dirt and dust away from your indoor carpet, linoleum, or tile.
We recommend that you choose a flat weave (non-fluffy) rug that will maintain its appearance even after tons of foot traffic and that its made from synthetic materials that are more durable and easier to clean.
The Size

One of the most important decisions can be the size of your outdoor rug. There are 2 important things to consider:
Make sure that you allow a border of 18 inches around your outdoor rug area. This places a visual spotlight on the rug.
Make sure you have 24 inches extra of rug surrounding outdoor dining tables. This way when you slide in and out of your chair the feet of your chair wont fall off the edge of the rug.
Next youll want to bring out the measuring tape and start measuring your space! As a rule of thumb you want to make sure that your rug is large enough to place at least the front legs on the rug. Its better if your rug is big enough to place all four legs of your furniture on it, but you can asses in each specific case. Here are a few more considerations:
2 front legs on the rug: makes the space come together while expanding it at the same time.
All 4 legs on the rug: makes the space feel like a conversation room.
Some legs on, some legs off: placing some chairs completely on the rug and others only the two front legs works well for eclectic outdoor spaces and creates an asymmetrical layout that is modern and chic.
The Shape

When it comes to deciding the shape, its important to take into consideration the architecture and furniture thats already in the space (like the style of the furniture, any fireplaces or fountains, etc). Consider the space of your patio, and the area you want the rug to be, as explained above. Here are a few tips for choosing the best shape for your rug:
Round tables look nice over round rugs.
Outdoor seating sets are nicely defined by rectangular or square rugs.
All rugs should be 2 feet wider than the table on all sides.
Oversized outdoor rugs that cover the majority of the patio work well to define an entire space.
Rugs placed under center coffee tables also work well in defining a space
Remember that the main effect of an outdoor rug is to define a space and make it come together, make it feel homey and warm. So we recommend you to look at samples of outdoor patios with rugs to get a good idea of the shape that would work well with your patio.
The Pattern

Choosing a pattern is one of the funner things to do! Consider selecting the colors and patterns that blend with your existing outdoor design scheme. This ensures the uniform appearance and attractive design flow of a well designed patio. Here are design tips from Overstock.com:
To accentuate modern outdoor furnishings in white, black, or grey, consider a black or light blue chevron rug with white or cream contrasting stripes to place beneath a table or outdoor sofa, or to use as a runner along one side of the pool. If your patio table and chairs consist of natural wood, consider a solid color such as red, orange, or rust to create a welcoming contrast.
Here are a few examples to get inspired from: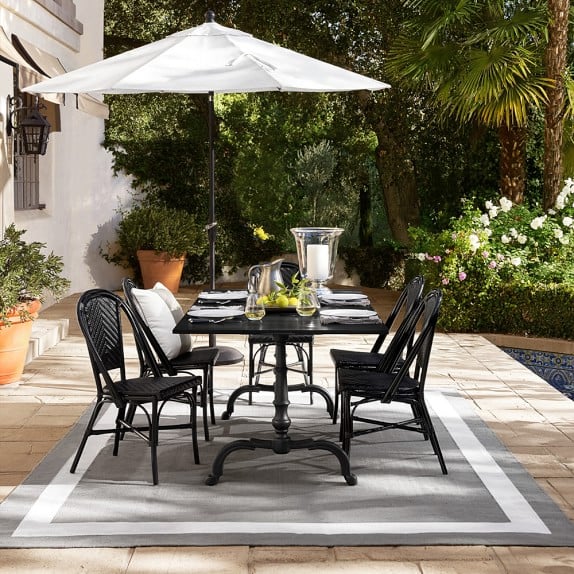 Dont forget to keep in mind the materials, texture, and color of your patio furniture. Try to coordinate your outdoor rug with your patio furniture.
But mostly have fun while shopping for your patio rug and in no time youll have the perfect rug!
Get the newest, best design ideas, for free!
News and design tips from industry experts, delivered weekly