READ THIS Before You Buy Replacement Slings for Your Patio Furniture
Let's start with an all too familiar story: you've got a broken patio chair that needs fixing. It's on your to-do list, but you just haven't got round to it, or if you're honest, you've been putting it off! When you finally order the spare part, it arrives and you discover it's the wrong size. How frustrating! Now you have to send it back, order a new one and start all over again.
At SunnilandPatio, we believe that DIY repair jobs should be a rewarding experience that give you a sense of pride at your achievement. This guide will help you order the right replacement sling, allowing you to fix that chair smoothly and with minimum stress.
What kind of chair do you have?
We sell replacement slings to fit four different styles of patio chairs: one piece chairs, two piece chairs, chaise lounges & ottomans. Look at the diagrams below to see which sections of your furniture you need to measure to ensure you get the right repair parts.
One Piece Chair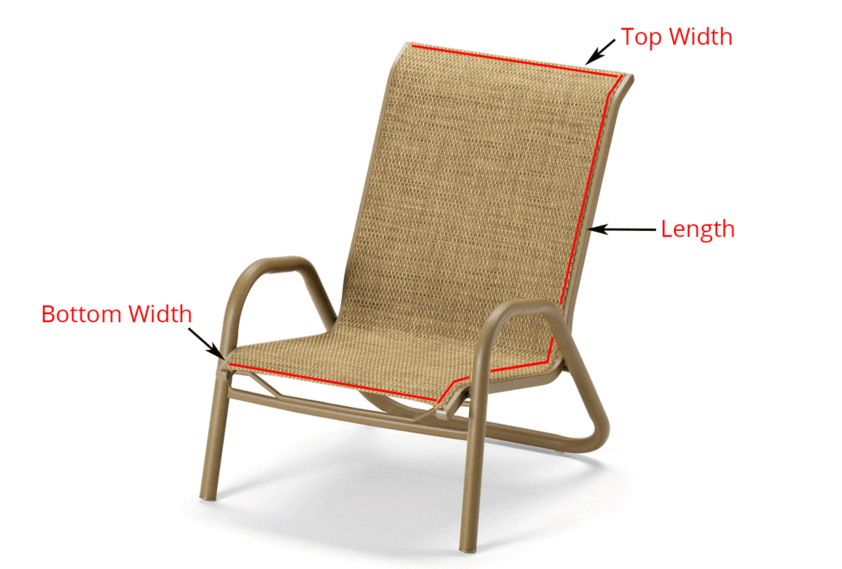 Two Piece Chair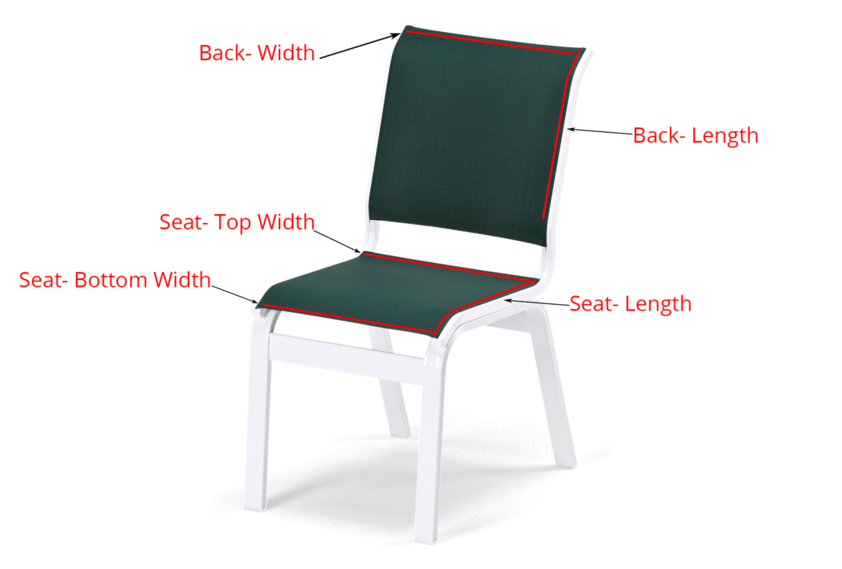 Chaise Lounge

Ottoman
Next you need to get the right measurements. Here's how:
Remove the end caps from the sling rail ends.
Remove the sling from the frame and the sling rods (plastic sticks) from the sides of the sling fabric.
Lay the fabric flat on a table and measure the lengths and widths depending on the type of chair you have. (Refer to above diagrams)
Measure the sling rod (plastic stick) too, as there are two sizes to chose from either: 1/4 or 7/32. This is important because the size you choose will be installed in the slings you order.
Please note: The width of most manufacturer replacement slings are the same at the top and bottom. We offer you the opportunity to select different top and bottom widths for that rare case where the manufacturer made them uneven. Be sure to check the width in several places to see if it actually is different throughout.
If your slings were loose you may consider reducing the measurement up to a 1/4, but this may make installation more difficult. Sticking to the actual size is the safest way to go. It is better to have a sling fit on your furniture even it is a little looser than the original, than not being able to install it at all if it's too tight.
Click on the appropriate chair from the replacement sling page and have your measurements to hand.
Now select the correct sizes from our drop down menus. 
Select the rod size, then choose your desired fabric. We custom make your replacement sling from over 50 different designs: from cane wicker fabric to solid block colours, to fetching stripes and stylish patterns. View the swatches here.
Delivery is free for orders over $150. Slings ship within two weeks and because they are custom-made are non-refundable and non-returnable once the order has been processed so it's doubly important you get the measurements correct by following the steps above.
Still concerned you may not be ordering the right replacement sling?
We're here to help! Get in touch by phone, email or live chat and we'll make sure you get exactly the replacement material you need to get your patio furniture looking sharp and feeling brand new. 
Get the newest, best design ideas, for free!
News and design tips from industry experts, delivered weekly