May 20, 2022
Cushion Lookbook
Brown Jordan Replacement Cushions Types & Styles: Which is Right for You?
Hi it's Jeff with Sunniland patio today I wanted to talk about our Brown Jordan cushions. Watch the video or read the transcript. Welcome to my shop!
We offer two collections of the Brown Jordan cushions. We have the Florentine Collection which is a raw aluminum and then also the Havana Collection which is a wicker range they offer.
Those are the two patterns we currently have in stock. Hopefully in the future we'll add more so if your furniture is different than those two you might look at the Universal cushions instead.
This is our Florentine seat pad. We only use the 100% acrylic made by Sunbrella. It's a very rugged outdoor fabric that is even bleachable if you needed to get rid of mildew or tougher stains. A lot of information on cleaning is offered by Sunbrella.com if you need to check that out. We use the finest of polyester threads which have UV inhibitors so that the sun doesn't dry them out. Of course that can happen over time, especially if you don't rinse the rinsing bleach from your cushions so watch out for that. If you do use bleach make sure you rinse it thoroughly.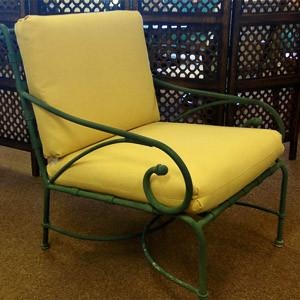 Another one here this is for the Florentine Club Chair. Now this one doesn't have ties because it fits snugly into place but a nice nice tailored look to it as well and then also something to notice on the inside here we use a foam core and then we have the poly batting inside to help fill out the cushion and protect the foam for moisture.
It's it's not waterproof but the idea with this type of foam is that you have a nice soft cushion that's nice to sit on it's not one that's going to flatten out right way which is typical of some poor quality ones. And then also you have some cases where they just make it with too hard a heart of foam as well too but again a nice example of our Florentine Collection Club Chair cushion.
We also have the Florentine Ottoman Cushion. In this case we need to have ties to keep it in place so there's ties in all four corners to keep that falling all over the place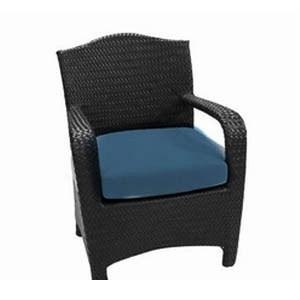 This one is the Havana Collection Club Chair cushion. It's a big style, oversized cushion and has a boxed edge on this collection here.
You'll notice that we have a proper fit for this chair. It's notched out where the arms are in the front of the chair and then the back cushion goes through the arm as well too so you get a nice tailored fit. You can see here again Sunbrella Fabrics. The polyester thread foam core on the seat and then we use a lighter poly backing so that the back stays nice and soft to sit on.
We'd be happy to answer any questions you have if you wanted to contact us on the website or call us. Some of the measurements we offer will give you some general guidelines but I can tell you if you can see the picture and you see the right club chair style or sofa style then you'll be on the right direction.
Well I hope this video is helpful for making your buying decisions there for your Florentine or Havana cushions and thanks again.
Leave a comment