September 16, 2022
Design Inspiration
5 Ideas for Enhancing your Autumn Outdoor Dining Experience
Autumn is one of the most romantic seasons of the year, with the leaves changing colors, the cooler weather coming in and the spirit of the holidays around the corner- it's quite a unique season. For patio furniture and staycation lovers, dining outside can be lovely way to enjoy the season. Especially in South Florida as the cooler weather begins, and the mosquitoes retreat, autumn is one of the best seasons to enjoy dining outside. Here are 5 ideas for enhancing your outdoor dining experience this fall!

1- Make it Glow
Adding outdoor lighting is one of the best things you can do to give your patio that pumpkin spice autumn feel. What used to feel like a lifeless patio in the darkness can become a romantic fall patio if you add the right lights. To make this work, you need to add soft and glow lights in strategic areas so that they come from multiple sources and produce the fall atmosphere. Examples are: tree-mounted lights, floor lanterns, string lights on the walls, warm lights on the building, table lanterns and lets not forget about candles.
2- Bring the Fall Flowers

Autumn has an unmistakable color palette: 
The rich reds, deep oranges, vivid coppers, and ground browns, and we know it best because of it shows in the seasonal flowers and vegetation around our homes. To add an extra touch of autumn to your outdoor dining experience, add autumn flowers and leaves to the table! You can choose from these flowers that will bring out the autumn color palette and intensify the fall vibes over dinner: 
Potted chrysanthemums
Pansies
Rudbeckia
Helenium
Witch hazel
Perennial sage
Poinsettias.
3- Showoff the Lux Tableware and Fall Decor
Most of us bring out the nice luxury tableware only for Thanksgiving, but this same tableware paired with all of the above and some pumpkins can totally make your dinner table feel very warm for the autumn. Feel free to bring out main centerpieces of tableware, plus all your fall table decorations for family dinners on the weekends and friend gatherings. Go all out with vases of fall flowers, metal accents, old style candles, fall themed linens, bright gold centerpieces, and even add some fall leaves in the middle of the table to up the vibes. 
 4- Turn on the Fire
Dining fire pit tables sure make for great fall pieces. These tables will look like regular tables during the warm summer months, and by just removing the lids, you can convert them into autumn dining experiences. Most fire pit tables will be made of aluminum and feature a natural gas, charcoal or gel powered fire centerpiece. A good option is the Telescope Furniture fire pit tables, which feature gas or gel powered fire centerpieces. These outdoor fire features are crowd pleasers because they gather everyone around the table to enjoy the fire and conversation. Theres no better way to bring in the autumn vibes than with an outdoor fire over dinner.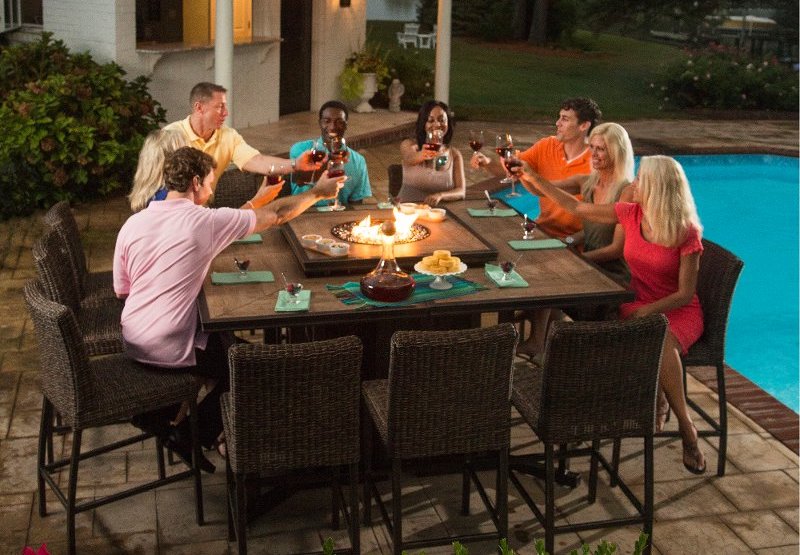 5- Enhance with Aromas
To add an extra sensory touch to outdoor dinner, you can bring out the essential oil diffuser and add a blend of warm scents. Autumn themed essential oils will have you closing your eyes and feeling warm and cozy inside, as you smell them. Due to their warming, spicy, resinous and woody aroma these essential oils make the list for best for autumn:
Anise
Cardamon
Cinnamon
Clove
Cedarwood
Coriander
Frankinsense
Orange
Mandarin
Tangerine
Ginger
Sage
Patchouli
Lime
Myrrth
Nutmeg
Rosemary
Rosewood
Sandalwood
Vanilla
Here are 3 blends you could try, courtesy of Aromaweb.com:
Blend #1
10 drops sweet orange essential oil
4 drops ginger essential oil
6 drops patchouli essential oil
Blend #2
8 drops sweet orange essential oil
6 drops lime essential oil
6 drops sage essential oil
Blend #3
12 drops sweet orange essential oil
3 drops cinnamon essential oil
3 drops clove bud essential oil
2 drops nutmeg essential oil
Now you can enjoy an autumn themed warm dinner in your patio dining set to bring in the season with family and friends, as it should be!
Leave a comment