April 17, 2017
Patio Furniture Reviewed
Set the Night on Fire with an Aluminium Fire Pit Table
You've worked hard to make your garden the perfect sanctuary, but chances are you don't use it as much as you could. You may only make use of it for some of the year and that's a crying shame! One way to maximise your outdoor space is to purchase a fire pit table to make your garden warm & weather-proof during the cooler winter evenings.
Let your worries go up in smoke after a long day, as you sit around your fire pit table with a glass of wine, stargaze and chat with a loved one. Theres something primordial about fire that helps us reconnect with nature and the elements as well as being a centrepiece for parties & celebrations. There's a reason the saying 'like a moth to a flame' exists. People just love looking at fire!
Our fire pit tables will enable you to extend indoor family festivities outside for Halloween, Thanksgiving and Christmas celebrations and make a memorable feature point for any party. And because Florida gets more sunshine than most places on the planet, our tables come with an aluminium cover so they can be used as a regular coffee table on hot days. That's 365 days of use, whatever the weather. 
Our aluminium fire pit table range
At SunnilandPatio we offer classical, traditional and modern designs sourced from quality furniture designers. Our fire pit tables are made by Telescope who were named supplier of the year at the Casual Living Conference 2015.
We stock two different sizes: rectangular or circular to suit the shape of all gardens. Each table can be customised to suit the preference of the owners taste. We can offer you everything from emerald green in colour to aqua blue. Not only that but we can also accommodate your preference in terms of finish: a herringbone or slat design as well as a glossy or textured finish. Click the images to see just how many style choices you have.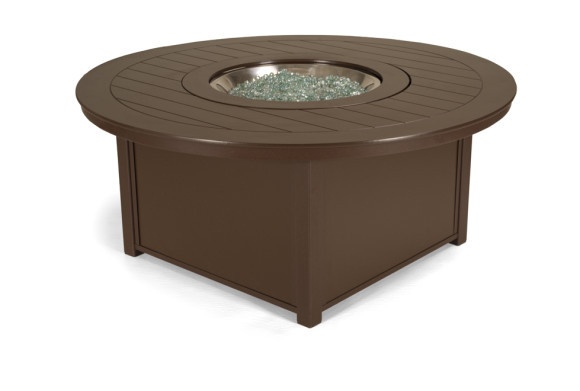 Why buy an aluminum fire pit table?
Unlike cast iron fire pits, our aluminum firepit tables don't rust, so maintain their appearance for years to come. In terms of maintenance, they even wipe clean! Ideally, like a barbeque, you should clean out your fire pit table after every use. Firstly, remove any ash that's accumulated from the night before then simply spray it clean with a hose and lightly wipe with a mix of soap and water.
To make sure your fire pit table has the longest possible life span we recommend buying a fire pit cover: We sell sleek Ravenna covers for both round fire pits and square fire pits.
Light up the night with your conversation and toast some S'mores! 
Still not convinced you need a fire pit table in your life? Well, everybody loves S'mores! A fire pit table is an easy way to ingratiate yourself in the mind of any child in your life. Or if you're feeling particularly social you could even invite all your neighbors round for National S'mores Day on August 10!
Tip: Use aluminium foil to get the marshmallow to toast evenly, keep them moist and prevent gloopy messes!
And if you're bored of the standard S'mores combination check out this great S'mores infographic from The Pampered Chef for recipe ideas. Happy toasting!
Leave a comment