September 09, 2022
Shopping Tips
7 Tips for Choosing Patio Furniture
Beautiful patio furniture can create a functional and comforting space right in your backyard. With a wicker sofa and a rocking chair, you can turn a porch into a cozy second family room to enjoy during the summer months. Add a marine grade polymer dining table with comfortable chairs and your backyard is turned into a sensory-rich dining experience.
No matter the size, you can turn any backyard space into your small staycation getaway. With the right furniture pieces a small balcony, a tiny garden or a small patio can become places to enjoy.
Here are some of our expert tips on choosing patio furniture thats right for your space: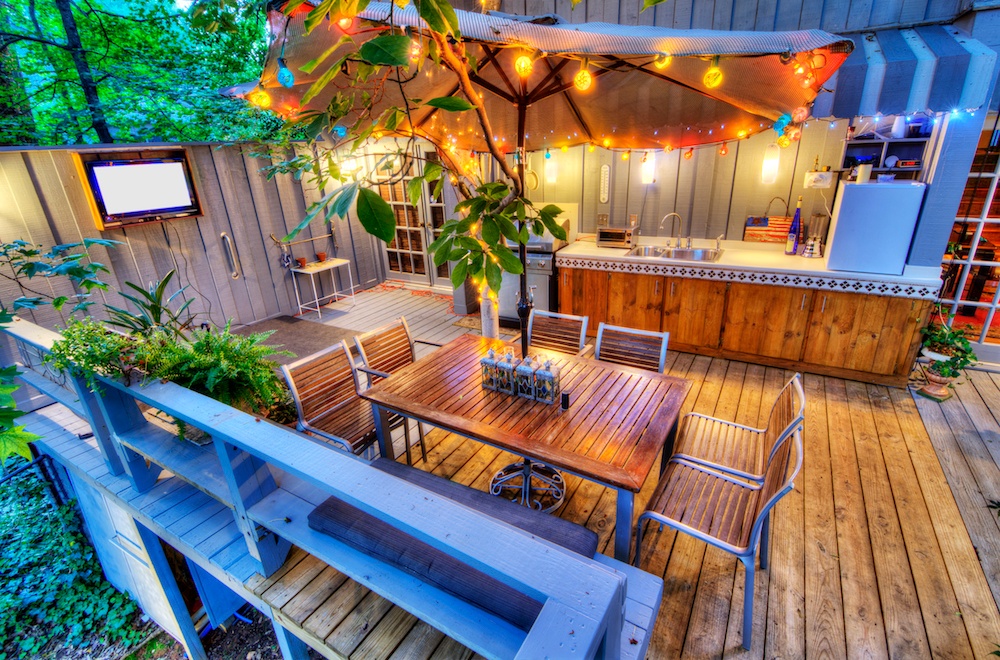 1. Function and Purpose
Start by imagining how you'd like to spend your time in your backyard space. How do you want it to function? Will yo
u be hosting dinner parties? Will it be a second dining space? Will you be using it as a reading getaway?
Make a list of the things you would like to do in your backyard space and narrow it down to two things. For example, if you want to host cocktail hour but also create a reading sanctuary perhaps consider a cozy sectional with a middle coffee table and a hammock on the side; this way your friends can gather and eat tapas and when they've gone you can bring out a book and read comfortably too.
Keep the function and purpose of your space in mind when youre shopping for furniture.
2. Measure Your Backyard Space
Its important that you measure your backyard space so that you can get an idea of what kind of furniture youll need. Is your space a 6' by 6' area? And you decided youd like to host cocktail parties and have a cozy reading space too? Then you might consider a small cozy love seat with a lounge chair and center coffee table. You get the idea! Measurements will determine what size furniture you can buy.
3. Pick your colors
Colors can trigger certain emotional states and feelings, thats why it's important to pick out your color palette prior to shopping for your patio furniture. Ask yourself these questions: How would I like to feel in my staycation space? What mood do I want it to have? Calm and peaceful? Go for blues and soft greens. Tropical and warm? Go for oranges, reds and yellows. Cozy and neutral? Go for beige, tans and greys.
Heres a quick chart of colors and their emotions:
And if youre still not sure which color palette is right for you, check out Room Color and How It Affects Your Mood from Freshhome for more ideas.
4. Quality and Durability
When it comes to patio furniture, the old saying you get what you paid for stands true. If you purchase a bargain-priced set from Target or Home Depot, you wont get the same quality of durability as compared brands like Telescope Furniture. Why? because of the quality of the materials used: plastic resin chairs may look good for a year or two but in that time theyll become brittle and lose their color.
Keep in mind these materials when shopping for patio furniture, as they are the most durable: synthetic resin or wicker furniture, aluminum patio furniture, marine grade polymer and teak (if you opt for wood).
5. Dual Purpose
Search for patio furniture that will make your life easier by serving a double purpose. An ottoman that also doubles as a chair when you need it to, a table that doubles as a fire pit for those winter months... you get the idea. These pieces will save you space, and if you ever move, they will also adapt to a bigger or smaller patio.
6. Take a Seat
It may sound obvious but take a seat on all patio sets you see at the store. Its important to test how they feel, if they are comfortable and sturdy, etc. Make sure that you buy furniture thats comfortable, you dont want your patio to look great but remain unused because the pieces are too uncomfortable to sit on.
7. Extend the Life of Your Furniture
All patio furniture requires a little help when it comes to withstanding the elements. Thats why its important to get patio furniture covers to keep your furniture looking like new after years of use.
When considering covers make sure you look at the fabric; for example water resistant woven polyester, and the finish; they need to be tailored to fit snug in order for maximum protection. For a more in-depth review of covers check out our blog post on covers.
Thats it folks! Follow these 7 tips and you should be equipped to shop for the perfect patio furniture. And if youre ever in town, visit our showroom in Boca Raton, FL for more tips and personal help picking the furniture thats right for you!
Leave a comment