October 31, 2018
Design Inspiration
4 Easy Breezy Patio DIYs Decorations to Celebrate Fall
With summer season over, and most of the year gone, we've come into our favorite season: Fall. Filled with pumpkin spice lattes, turkey and mash-potatoes dinners, costume parties, and super sales at your local stores it's hard not to love Fall. Particularly down in South Florida, we're grateful for Fall because it means hurricane season is over (sigh!), and the excruciating heat is giving way towards a fresh 75 degree backyard relaxation weather. So, to celebrate this, we've picked the most creative and simple do it yourself projects to decorate your patio for fall.
The No-Carve Pumpkin
Theres plenty of pumpkin tutorials out there, but we've always found the carved pumpkin tutorials to be more work intensive and not as simple as just decorating your pumpkin. So for those peeps looking to decorate without carving, we have 3 ideas:
Give It Some Sparkle!
Give your pumpkin some sparkle in 4 simple steps: paint it a certain color (black or white works best), wait for it to dry, then apply spray glue to the entire surface of the pumpkin and pour the sparkle on all over the pumpkin. Let it dry and voila! Check out the full tutorial from HGTV Handmade here.
Paint It Anew!
Another fun way to spice up the pumpkin decor is to paint it all sorts of fun ways, you can do stripes, paint it black and fill it with polkadots, or put dazzling silver tattoos on it. Which ever way you want it, its sure to look amazing next to your patio furniture. Click on each picture if you want to watch the full tutorial.
Trick-o-Pumpkin
Your kids are dressing up for halloween, why not the backyard pumpkins too? Get creative and dress up your pumpkins as mummies, cats, ghosts, witches and even ghouls. Its quite simple, for example for the mummy costume, just wrap the pumpkin in cloth, add a black mouth and glue two pairs of eyes, and that's it!
Dress a Pillow
That Telescope sofa has been sitting in your patio all year with the same look, but for fall you can do something different, you can decorate the pillows with seasonal patterns just by wrapping the pillow in the material! Simple as that, no sewing or complicated handwork, we found a tutorial so you can do it easily. Pick a fabric that has stripe patterns, fall leave patterns, halloween patterns, or pumpkin patterns at your local store and just wrap the pillows for a fall look and feel.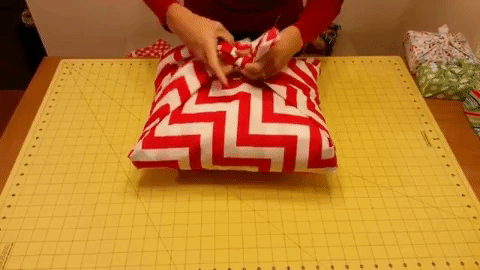 Handy Mason Jar Lamps
Mason jars are pretty handy for many things, we've picked this tutorial that shows you how to make leaves inspired mason jar lamps and place them on your backyard coffee tables and add that touch of fall to your sets.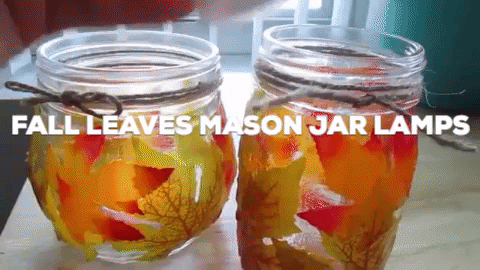 Pumpkin Decorated Lanterns
Another quick and easy decor idea for your patio is to purchase the typical glass and wood lanterns, and fill them up with fake pumpkins or fake fall leaves and place them beside sofa sets, as the center piece on your dinning set, or on the coffee tables.
Light It Up
Theres nothing quite like it when it comes to creating a cozy atmosphere in your patio than hanging lights. For fall you can either hang regular string lights to give your patio that warm vibe OR you can get more crafty and create pumpkin string lights with yarn. Either way this the perfect touch to complete your patio decor for fall.
Hanging string lights
Pumpkin Inspired string lights
After you've created one or two or even all four of these decorations, your backyard should feel like its ready fall afternoons spent near the fire, drinking hot cocoa and talking about past family memories with the kids.
Now don't forget to bring out the camera to photograph your gorgeous creation and share with friends! 
Leave a comment